Our Team
At NorthPoint Pets our knowledgeable thoughtful team is the engine that makes us go. We've put together a group of individuals who bring years of experience and education from venerated institutions and world experts which helps us provide a unique perspective to the challenges — and triumphs — you face as you spend a lifetime with your pet.
We all have big personalities, and pride ourselves with being honest — which can mean not always giving the easy answers — but we give them information that clients are unable to obtain by clicking a search bar on the internet. Taking the time to listen to you, and understand your pets allows us to provide you with the tools you need to make the most educated decisions.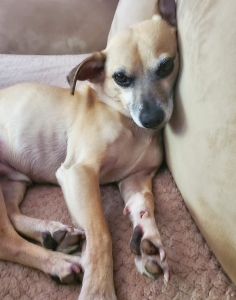 Tina Adams
Tina met Nicci while they were both volunteering at a rescue operation and began working at NorthPoint Pets since 2017. Tina has background experience in teaching math, accounting, and physical therapy. Her dog Petey lived in a kennel for two years (as part of a cruelty case), after which she adopted him as a foster. She thought he was too small for her liking, but after falling in love with his huge personality, she decided to keep him. They've been a pair ever since. Although she does not work up front much anymore, Tina manages the back end of the store operations to keep the store fully stocked and running.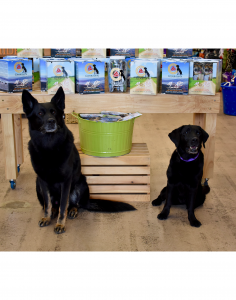 Beth Alonga
Beth and her family have two cats, Nala and Kiwi, and two dogs, Ammo, a German shepherd, and Monica, a black lab, both of whom are retired from the Connecticut State Police. Beth's family adopted Monica upon retirement from the force. When she learned Monica had extreme food allergies, she sought help at NorthPoint Pets and was thrilled by the positive impact it had on Monica's health. Shortly after, Beth joined the NorthPoint team managing the front end of the store, and since then enjoys helping others improve their animals' health.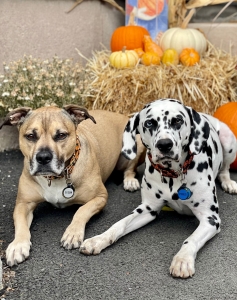 Morgan Hunt
Morgan is a Certified Veterinary Technician who joined the NorthPoint team full-time in July 2022 with over 4 years of experience in veterinary medicine. When she got both of her dogs and saw the issues that came with each breed she decided to dive into the nutrition world. If you don't see Morgan working then she's reading, watching softball, hiking or walking her pups! She has a pit mix (Tyson) and a Dalmatian (Pongo) to keep her on her toes every day!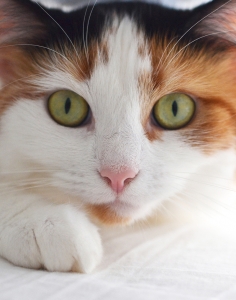 Jenna Harrison
Jenna enthusiastically joined our team in early 2021 bringing nearly a decade of pet industry knowledge and experience along with her. She is proud mom to cats Aerie and Spook who are both credited with her interest into pet nutrition. Quickly Jenna realized that there was a lot to be desired for honest, unbiased and accurate information within the industry and she knew she wanted to help change that. Much like the team at NPP she believes in the value individualized diet, fresh food and tailored advice can provide for overall health, regardless of age. She also is the mom to 4 sugar gliders, Crumb, Crosby, Bindi and Gatsby which helps bring additional small animal knowledge to our robust team. When she's not helping pet parents at NPP Jenna can be found hiking with her husband Adam, horseback riding and painting pet portraits.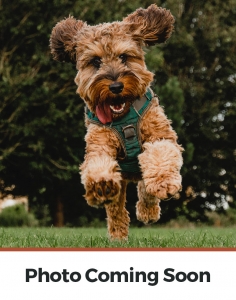 Abbie Montonye
Abbie joined the NorthPoint Pets team in Fall 2019. She brings 15 years of administrative experience to the table, and her highly organized nature brings efficiency and attention to detail to the operations of our team. Abbie works alongside Nicci and the team behind the scenes to help keep projects moving forward while Nicci advocates and researches to make the pet industry more accountable. Abbie 'is owned' by 2 dogs (Morgan & Skippy) 2 cats (Timmy & Figgy) who keep her on her toes. She is married to an avid outdoorsman & hunter and is also the mother of two human children. Her and her family love the outdoors and can often be found hiking, biking, camping, and gardening.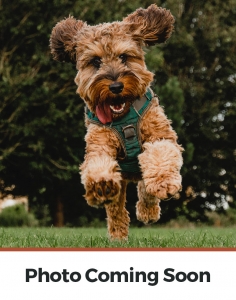 Caitlyn Schulz
Caitlyn joined the NorthPoint team in August 2021, bringing experience in companion animal and farm animal care. She is mom to her son Micah and a hamster named Bugsy. Driven by an interest in pet nutrition, Caitlyn enjoys her role because there's always something to learn!
Ashley Cammack
Ashley is the proud owner of two Dachshunds, one Yorkie, and three cats. She has a degree in music and is currently working on another in human resources. Ashley is also Nicci's sister and shares the same love and affinity for animals. She's extremely knowledgeable in the products we carry, and helps customers find the perfect diet for pets — even those with unique dietary needs.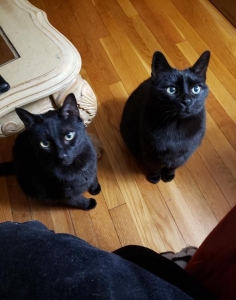 Savannah Parris
Savannah joined the NorthPoint Pets team in the summer of 2020. She has two senior black cats, Emerald and Smokey whom have taught her a lot about animal behavior and health. She is keen to further her nutrition education being a member of the NPP team, and through additional schooling. In her free time Savannah can be found exploring the stage with her friends, working on all thing's beauty, painting/drawing, meditating and engaging spiritual work. Savannah has plans to begin school in the spring towards an environmental engineering degree.
John Perillo III
John became a part of the NorthPoint Pets Team in August of 2019. He can be found receiving deliveries, managing inventory and keeping our shelves stocked. Johnny is dad to a 4-year-old rescue pit bull, Rosie. Rosie also has an important job conducting regular quality tests on newtreats and toys. Needless to say, she takes her position very seriously. John is also a competitive bowler and enjoys cooking for friends and family.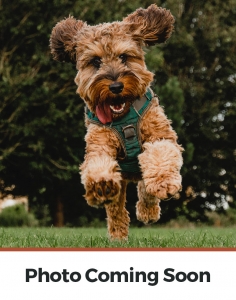 Adriana Lumbra
Adriana joined the NorthPoint team in June 2021. Driven by an interest in preventative wellness in companion animals, Adriana has a passion for helping pets feel their best through diet and nutrition. In her spare time, she loves to spoil her sister's two pugs, spend time with friends and family, and watch true crime documentaries.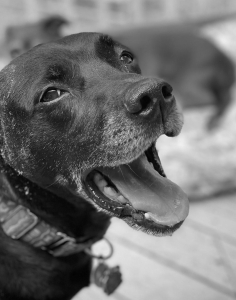 Melissa Violette
Melissa has four cats: Stitch, Stoli, Razzy, and Dually, as well as two dogs: Bella and Buddy. She can't remember a point in her life when animals weren't part of it. At 19, she adopted her first dog: a scared and shy shepherd mix from a local shelter. After bringing the dog home, her wonderful personality soon emerged. It was then that Melissa vowed to never buy any animal from a pet store. She says she "truly became a pet parent, and these were my children." She also learned her love for all animals runs deep and was not just limited to just cats. She is a certified dog nutritionist and is working on receiving her certification in cat nutrition.
Nicole Harnois
Nikki is the actual definition of animal lover, with pitties holding a special place in her heart. She and her husband have two fun loving, loyal, and pitties of her own. She has always aspired to help all animals, involving herself in animal rescue, rehoming and taking care of those who need a little extra attention. She also enjoys baking, gardening, biking and Yankees Baseball! When she's not working you can find her spending time with her dogs, and finding new ways to build the bond her and her husband have with their dogs.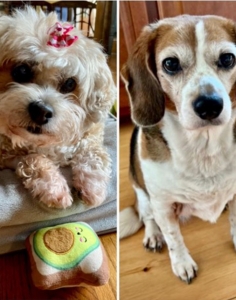 Rayanne Sola
Rayanne Sola joined The NorthPoint Pets team in February 2022, bringing social media and graphic design experience. Rayanne is a rising senior at Quinnipiac University pursuing a degree in Graphic Interactive Design with a minor in Advertising and Integrated communication. She has 2 dogs, Ginger who is a 13-year-old beagle, and Cinnamon who is a 15-year-old Bichon and Lhasa Apso. Rayanne enjoys working out, trying new restaurants, reading interior design books, and researching fashion trends. Rayanne's love for dogs started at a young age but blossomed when her two family dogs started to get older. Rayanne strives to accommodate her dogs every day that she can!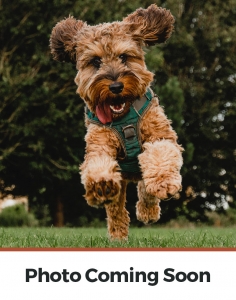 Patty Hall
Patty joined the NorthPoint team in the summer of 2022. She has two dogs, a schnoodle and a cockapoo and a cat. Patty strives to learn all that she can about pet health and nutrition from the right sources to help all the pets she can reach; the pets of the customers of NorthPoint as well as her own. In her free time you can find her in the kitchen, trying new restaurants, writing, or snuggled up with her pets on the couch watching tv.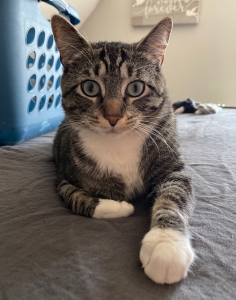 Archer
Meet Archer! Archer is the weather reporter for NorthPoint Pets. He is 2 years old and is a grey and white tabby cat with white socks. Archer enjoys chin and cheek scratches, and sitting on top of the refrigerator, which is the premier location for viewing the weather. Archer also enjoys loafing on soft blankets, dipping his foot in water cups and bowls, and more importantly, breaking into the snack container to find his favorite snack—NoBL bars (no one tell him that one bar is for a 25 lb dog, he prefers to eat 2 at a time if he can). Archer loves to take all of his snacks into his own room, or sanctuary as we call it, so he doesn't have to share with his dog or cat siblings.